A Fashionista's Guide to Eat and Drink in Paris
by
HULA ,
September 27, 2019
Paris is known for an effortless style and high standards. These standards apply to aesthetics, service and quality. Simple and unabashedly chic spaces highlight cuisine that is unrivalled when it comes to taste and comfort. There is a no fuss approach to eateries and bars in Paris that gives off the ultimate cool-factor. If you are in the city for Paris Fashion Week, here are our food and drink picks for the fashionable Parisian:
Ober Mamma
Part of the Big Mamma group, Ober Mamma is a popular joint to enjoy a Neapolitan pizza or simple panna cotta. The interior is a refined rustic that only seems to work well in Paris. The main room features a faux-tree that is sculptural and not forced. The overall feeling of Ober Mamma is absolute relaxation. It is a stress free Italian meal with fairytale-esque ambience and complete warmth.
Apicius
Found just behind the Champs-Élysées is Apicius. The theme of Apicius is blending traditional with modern – this goes for the food and the decor. Full of rare vintage wines and fresh berry smothered desserts, the menu is dictated by local suppliers and what they deliver each day. Everything is fresh and, frankly, stunning. Do not let the grandiose building intimidate you: breakfast, lunch or dinner (or all three) is definitely worth it.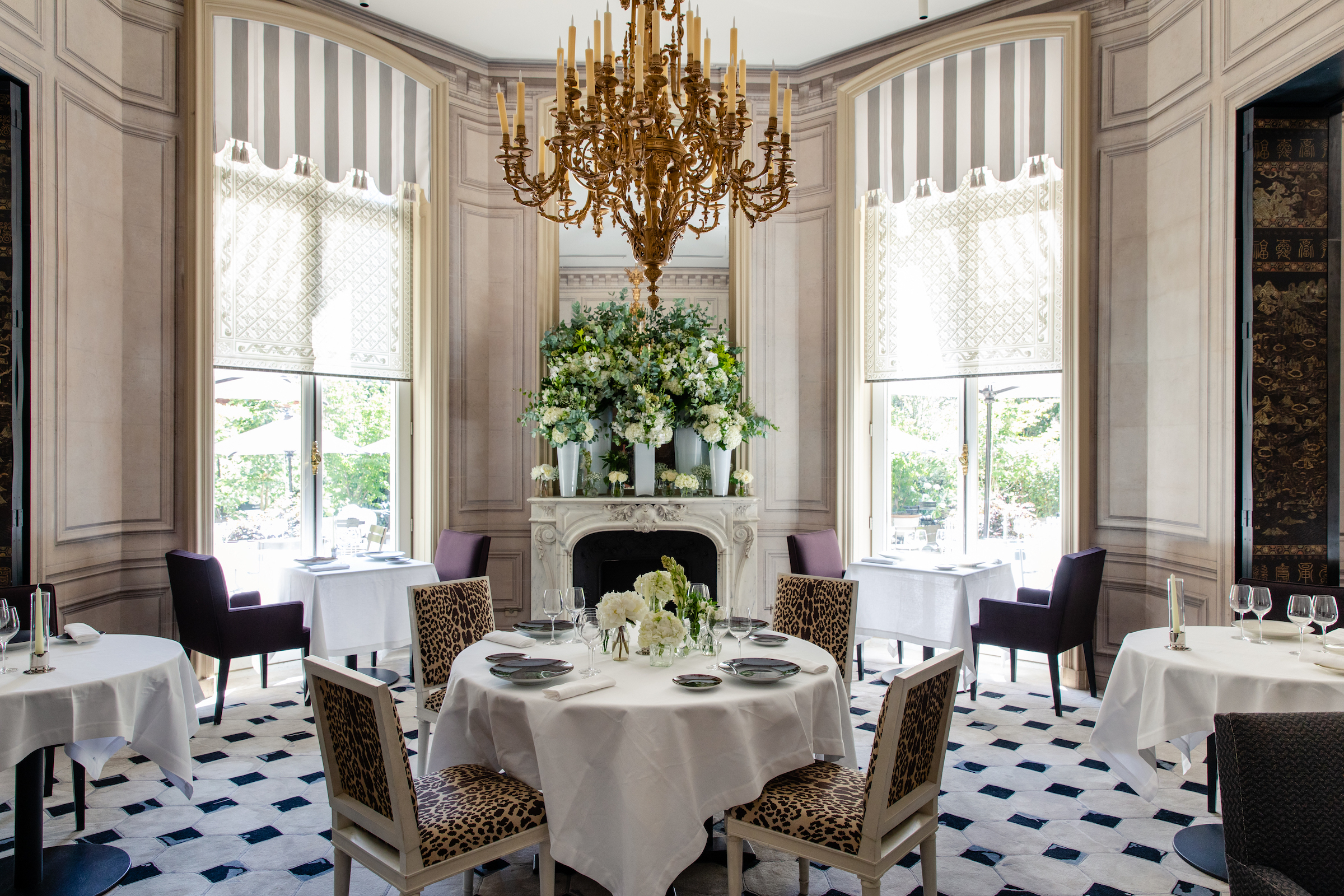 Alcazar
A sociable restaurant, Alcazar is for those who wish to dine in a restaurant that feels like a home. It is simple, plush and chic. Casual marble tables are surrounded by velvets, woods and straws. Brass and flora also adorn the open air space. The centre-piece of the space is an indoor terrace where vegetation surrounds the multitude of luscious textures. The food is a no-nonsense array of french gastronomy. This is the perfect place if you plan on staying a while.
Wild and the Moon
We all want to eat somewhat healthy – even when in the land of bread and cheese. Wild and Moon is the answer. It offers health-conscious meals of lentils and vegetables as well as any health-based beverage you can think of. Vegan nutritionists decided on the menu, so it is certified good for you and the earth. The interior is clean, simple and bright. Wild and Moon is the ideal space to read a book, have brunch with friends or grab a quick healthy snack on-the-go. 
Astair
The heat of Astair seems to pulse out of the elegantly framed front door. With tones of red, pink, brass and beige, the inside feels like being inside of chic space-age bar meets french bistro. The menu is a delightful selection of french cuisine, complete with quail, monk-fish and prime rib. Soft geometry accents the space and invites you to stay for at least one more drink.
FrouFrou
Appropriately named FrouFrou, this restaurant takes creating a glamour den seriously. Think Moulin Rouge meets Great Gatsby. Fashion designer Alexis Mabille envisioned the vivid and sensual interiors while Colombian chef, Juan Arbelaez, crafted the dishes that are meant for sharing. The lower level bar area even has live music and burlesque shows many nights a week.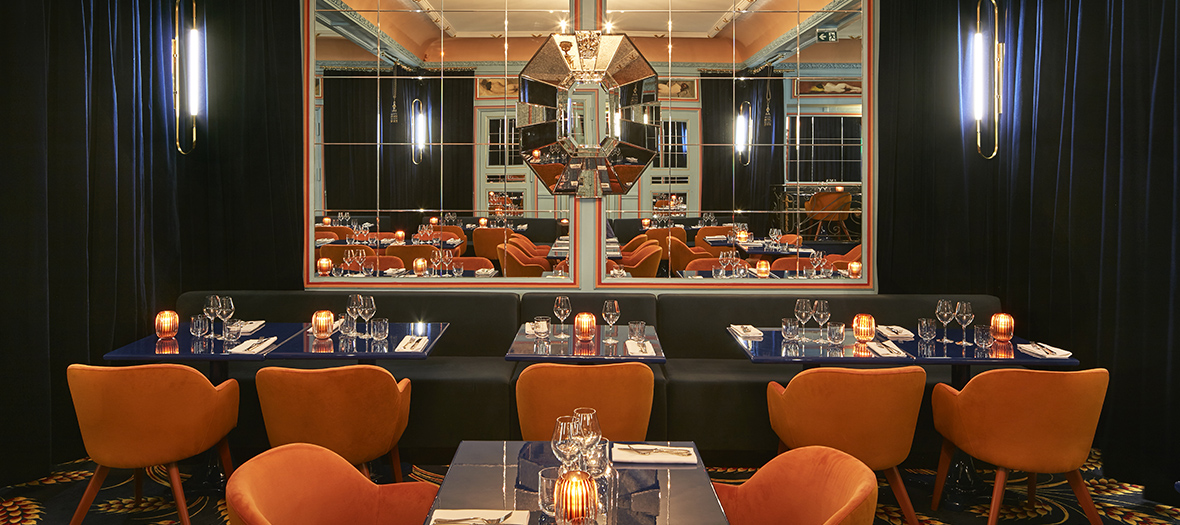 Le Beefbar
Naturally, Le Beefbar is known for the beef. In fact, the whole menu is for meat lovers. The menu boasts meat dishes from around the globe, all equally mouth-watering. The interior is a nouveau wonderland with high ceilings, botanical paintings on walls, red velvet chairs and graphic flooring. While not for the vegetarians in the group, Le Beefbar is certain to impress any carnivore or interior design enthusiast.
Jòia
Ever wondered what French comfort food tastes like? Look no further than Jòia. Chef Hélène Darroze wanted a space that felt like she was cooking for close friends, and Jòia achieves that. The name itself means 'joyous,' and it is definitely difficult to not feel joy when sipping on garlic soup or cutting a fresh bite of layered crepes. Inside is simple and warm. The top floor appears to be more of a living room where relaxing and laughing with good friends is imminent.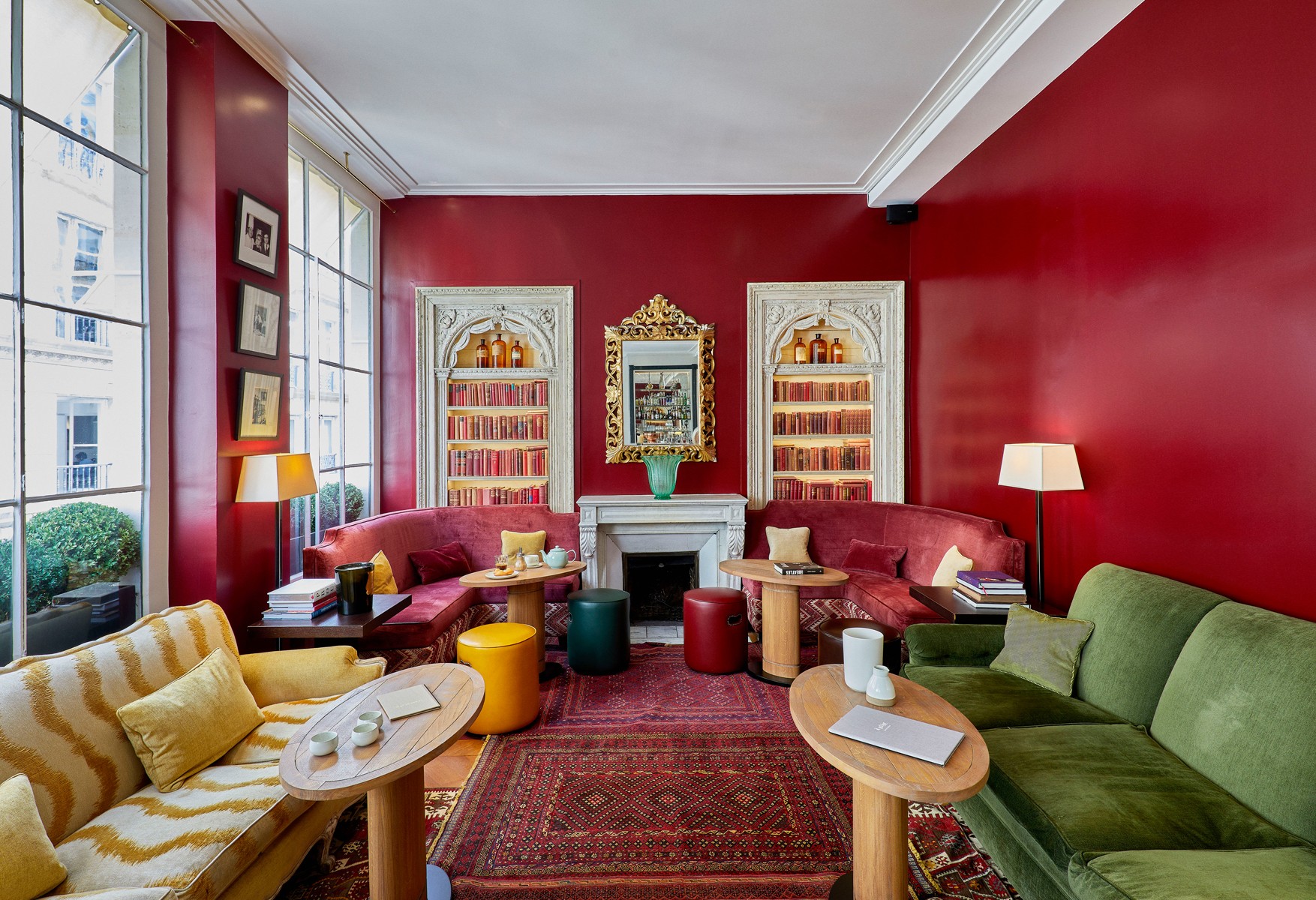 Oursin
Fashion designer of Jacquemus opened this Mediterranean dream within Galeries Lafayette Champs Élysées. The menu boasts crowd-pleasing seafood and pasta dishes that all have a taste of the region. The naturally carved out white walls feature what feel like lost treasures of a forgotten civilisation, while floor-to-ceiling windows highlight the space. Everything is white and soft. The airiness of the space is pure relaxation and aesthetic.
Piero TT
Piero TT is an Italian oasis when it comes to ambience and cuisine. Dark wood and warm checkered floors greet you as you enter the intimate interior. This warmth is furthered by the classic paintings and plates that line the walls. The dishes are also enchantingly familiar, yet boast a premier taste that can't come from your average Italian bistro. Pasta is the crown jewel of Piero TT, yet there are plenty of other options for those who have a hankering for meat or something sweet. The space suggests pure Italian aesthetics, yet is filtered with French simplicity. 
L'Orangerie at Four Seasons
Michelin star awarded L'orangerie holds a prominent real estate within the Four Seasons Paris. The menu is self described as 'feminine' and focuses on plant, fish and dairy dishes. While the dishes are arguably small, they are the epitome of elegance and strong flavours. The outdoor section is a refined space full of grand flower arrangements, classical carvings and minimalistic seating. This is the perfect place to indulge the eyes as well as the mouth.
Hôtel les Bains – Roxo
This exotic space is a lacquered feast for the eyes. The seductive interiors are filled with deep reds, bright greens and dark woods. These elements complement the Brazilian chef's eclectic menu that fuses together a multitude of cultures. You can experience this craving-worthy restaurant through sitting at a table, reclining at the lounge, or in front of the DJ booth. Roxo is guaranteed to intrigue. 
Monsieur Bleu
Monsieur Bleu is deliciously Parisian: from the simple and chic interior to the classic french menu. The space is dominated by Art Deco aesthetics with green marble, velvet chairs and geometric accents. It is modern and effortless. Perfect for brunch or dinner, Monsieur Bleu hosts a variety of french favourites. There is absolutely no congestion within the restaurant as clean lines dictate well-spaced out seating and tables. It is a grand brasserie without the pretentiousness.