Should Fashion Week Be More Sustainable?
by
HULA ,
September 20, 2019
Have you ever wondered what happens to the elaborate sets after a fashion show is finished? Or the amount of energy it takes for influencers and buyers alike to fly across the world to the various fashion week locations? Most people don't. The sheer waste that fashion shows, and particularly fashion week, produce completely cancels out any efforts to make more sustainable product. For anyone who has been lucky enough to get a ticket to some of the best shows in history they will always hold them dear to their heart; much like a theatre or production that moved and inspired them in so many ways – these shows have become an expression, an art-form that have wowed millions. However, in this day and age we ask, is fashion week an obsolete selling strategy that no longer applies to current consumer attitudes and environmental requirements?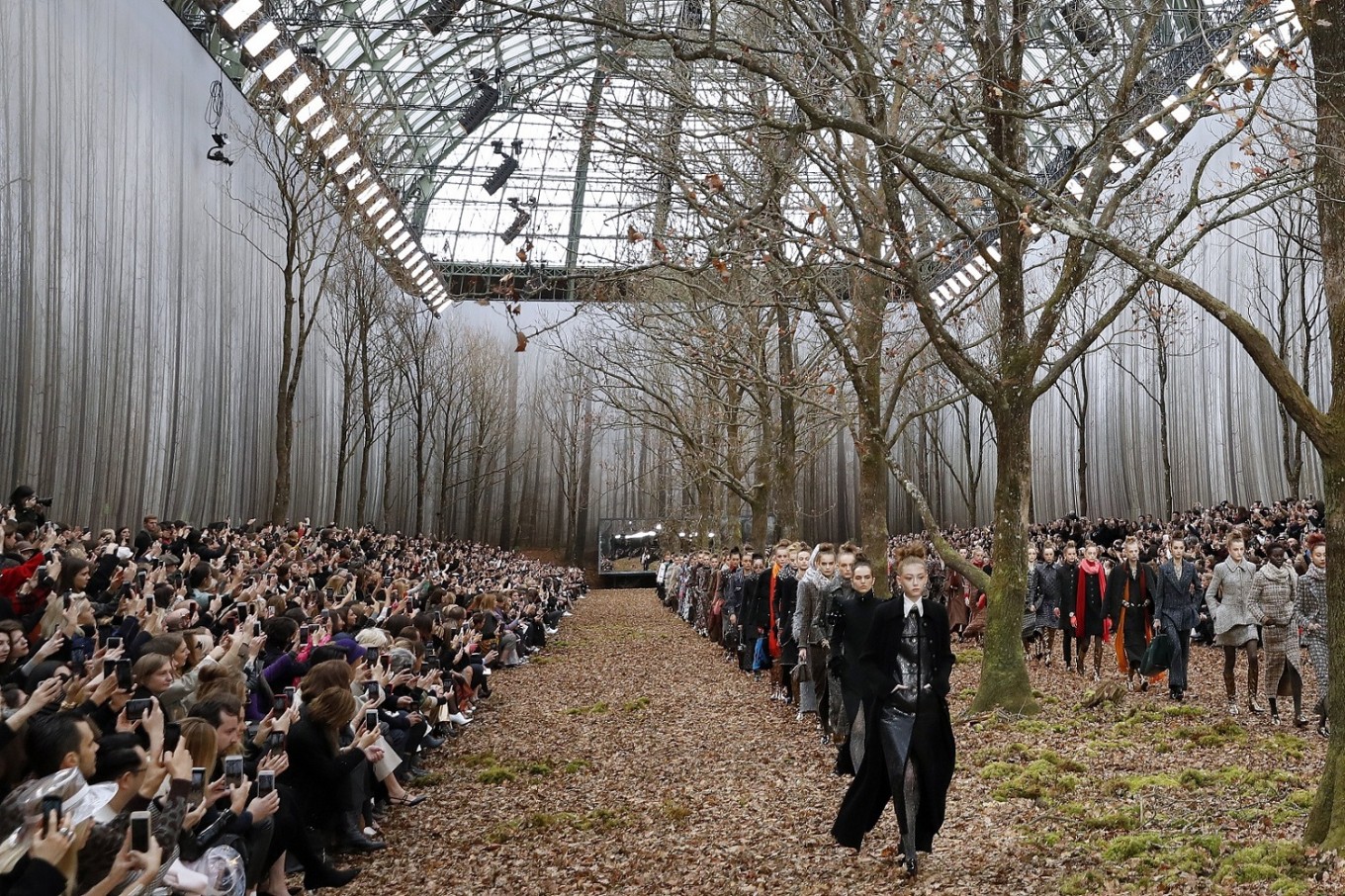 Social media is a company's most coveted currency, and fashion week plays a large role in a brand's social media clout. Fashion week encourages designers to 'one-up' each other through spectacular displays and shock value in order to stand out from the crowd. Vogue journalist Emily Farra discusses how the "media impact value" within a fashion show generates more dollars for a brand than the collection itself. This is due to the elevated coverage of a show and higher brand visibility amongst the public eye. Thanks to social media, there are instantly thousands of people who care about a show versus the amount of influencers and buyers who are physically attending the show. The majority of the physical show becomes waste: the sets, props, chairs, tables, uneaten food and drinks, the paper invitations, the flights home, etc.
This says a lot about the landscape of fashion shows today. If they are all about social media, should the entire production just be for social media? Many smaller designers can only afford to present their collections via social apps (primarily Instagram) and gain cult followings. It may make sense for larger brands to follow suit and save their show attendees the flight for a fifteen minute experience. 
For those who still decide to put on a traditional fashion show, there are small adjustments that make large impacts. Vegan Fashion Week founder (Los Angeles), Emmanuelle Rienda, discusses her efforts to make a creative space that harms the environment as little as possible. She provides all lighting and rented furniture (designers are not permitted to bring any extra), uses biodegradable bags that go on every attendees seat and uses primarily local designers in order to cut down on fuel waste. These changes are successful on a more localised scale, but can they work for the dynamos of the industry? Rienda thinks so. She says that brands should allocate an employment position for the sustainability portion of fashion week. She stresses the many considerations and research on cutting down a show's carbon footprint that require specialised attention.
There are small things that some designers are currently doing to better their footprints. Designer Collina Strada is holding her 2020 NYFW show outside in Manhattan Park in order to eliminate electricity usage. Designer Maria Cornejo has partnered with an eco-friendly nail-polish company for her models in order to support clean beauty. Larger companies that put on shows for big brands (Prodject puts on shows for brands like Prada and Gucci) are also getting their acts together. Younger teams within these companies help put more emphasis on reducing waste through recycling and renting as much as they can. Something as minimal as switching to LED lighting makes a huge impact on this waste.
The need for fashion shows anymore is also put into question. This is exactly what the Swedish Fashion Council asked themselves before cancelling Stockholm Fashion Week until further notice. As consumer habits change, as should the format at which they are being sold. These consumers do not buy full collections like they used to. With consumers not buying as much, should there be hundreds of fashion shows a year? Is it really necessary? The Swedish Fashion Council is pouring all their attention into designing a new platform for these shows in order to cater to current industry needs. Later this year, the new strategy will be announced along with the relaunching of the Fashion Talents Incubator Program in order to continue putting weight on industry innovation and improvement. The hope to reformulate the entire industry and act as a shining example of sustainability and education for others.
There is argument from those working in the industry that fashion should still be very much about story-telling, be treated as art and maintain an allure – deservedly so, after these designers have spent weeks and months designing and creating their master-pieces.  Is there a truth to the idea that you need to be able to see the collection, be immersed in the 'story', be wowed by the show for luxury fashion to be able to position itself above the rest? Wont we all miss these incredible, artistic and inspiring sets and the excitement of the shows if they no longer existed? For sure we will, however here must be another solution as the fashion industry can no longer ignore the needs of the environment (as it is the second biggest contributor to its demise). If it continues to do so, fashion will not be able to keep up with the future. The future that it claims to be ahead of.
Sources:
Vogue, Nylon, Green Fashion Week, Independent,