Top Luxury Eco-Resorts to Plan in your next trip
Planning your next trip? Why not set your sights on a luxury resort that gives back to the environment? There are a plethora of options in every continent that will spark sustainability inspiration as well as make you feel like a million dollars. Here is a list of 10 fantastic options that will pamper you, as well as the earth.
Oil Nut Bay, British Virgin Islands
With a slogan like "in harmony with nature," you know that this resort has serious dedication to sustainability. Nested in the British Virgin Islands, Oil Nut Bay Resort works with the government to make changes in the environmental regulations within the islands such as making solar power legal. Their efforts go beyond legalities as they also run everything through the resort using renewable energy. They even have "turtle friendly" public lighting! There is also a dedication to educating resort goers through an education centre on the grounds. Beyond the sustainability smorgasbord, the resort also offers the expected luxurious resort amenities such as a spa, fantastic pool and widespread views of the ocean.
Six Senses
Six Senses brands itself as an eco-luxe resort full of amenities that would intrigue any health enthusiast. This includes a specialty yoga sanctuary and a make-your-own product "alchemy bar" within a self proclaimed Wellness Village. Each resort has a dedicated sustainability department where they strive to innovate and serve their customers consciously. The drinking water is usually produced locally and bottled in recycled glass bottles and any food waste is turned into energy, compost or food for their farms. With twenty-four luxuriously outdoorsy villas that are powered by solar energy, the Six Senses resort truly allows the guest to connect with nature.
Skybeds / Sable Alley, Botswana
Skybeds is a paradisiacal hub for animal lovers and those lusting for an adventure. Rooms are fully engaged within a Botswana reserve and are housed on three-storey high platforms which have a bathroom, living room and open bed concept so guests can truly sleep under the stars. The best part? Guests get a front row seat to a nearby watering hole so they can watch the local fauna from their living quarters. Once the adventuring is done, they can venture to the main Sable Alley base camp. This camp shares the sustainable amenities that the Skybeds do whilst also providing an array of safari and luxury activities.
Post Ranch Inn, California
With a stunning view of Big Sur, Post Ranch Inn is a place for those who are attempting to get away from it all. Without any alarm clocks or televisions in the guest rooms, Post Ranch encourages guests to disconnect from all life distractions. All food and beverage is fully organic (water is bottled on site) and guests can engage in activities such as yoga, swimming and meditation in order to fully connect with oneself.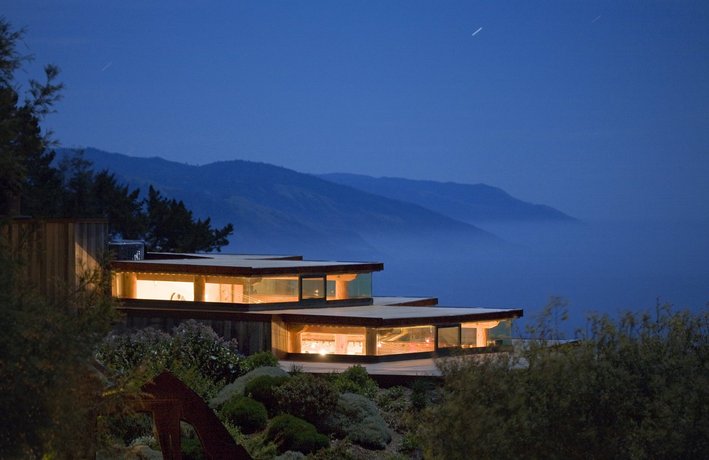 Banyan Tree, Indonesia
Banyan Tree is an eco-tourism chain of resorts that has put extra effort into their Indonesian branch through a Conservation Lab to help save surrounding wildlife and partners with locals for land conservation opportunities. The resort caters to all tropical water activities and spa treatments a person could ask for.
The Scarlet Hotel, UK
The Scarlet is one of the premier luxury examples of what European eco-tourism has to offer. They take the eco-lifestyle to the max with multiple avenues of environmental education whether that be hands-on or within an on-site classroom setting. If hands-on education is your style, fishing trips and tree climbing are just a few of the many options. Grey water systems, solar energy and air-tight seals in rooms offer the best in efforts to create a low carbon footprint.
Taj Exotica, Andaman (India)
Nestled in the Indian Andaman islands, Taj Exotica is the region's top eco-resort with emphasis on luxury. The island that Taj Exotica is based on is home to an extremely fragile eco-system so it is imperative to the resort to be as sustainable as possible. The fun activities that the resort offers are also designed to encourage the guest to appreciate the beauty of nature. This includes coral reef photography and kayaking through the seascapes. There is an onsite naturalist to make sure sustainability is implemented as much as possible throughout the resort. Waste management systems are also a big part of the Taj Exotica as they have their own systems like an on-site bottling plant in order to reduce plastic waste.
Pikaia Lodge, Galápagos
Constructed of fully recycled materials, the Pikaia Lodge in Galápagos is fully carbon neutral. The owners even planted twelve thousand trees to contribute to a tortoise sanctuary. Rainwater is collected and filtered into drinking water and ventilators and solar panels are used for eco-friendly temperature management. The building itself houses fourteen rooms which are rustic, yet modern – the perfect blend for this cutting edge resort.
Whitepod, Switzerland
Besides the main lodge that sports a warm breakfast every morning and a toasty grand fireplace, the Whitepod in Switzerland is primarily made up of luxury pods (naturally). This is in response to the high impact pollution that most institutions leave on the earth. The tents are spacious, low impact and offer full luxury amenities like contemporary designer furniture and warm insulation (fully working bathrooms as well). Chilly? Warm up by the wood stove that is in your pod! Bored? Check out the stunning view of lake Geneva from your pod! The "podsabilities" are endless!
Tabacon Thermal Resort & Spa, Costa Rica
There aren't too many five star hotels that are geared towards sustainability as a primary concern. The Tabacon Thermal Resort and Spa in Costa Rica does just that. Located within 900 acres of rainforest (at the base of a volcano), the Tabacon heats all its water naturally and can boast a carbon neutral status. Guests can enjoy outdoor spa services where the sounds of nature enhance the ambient experience. The luxury does not stop there, as private cabanas and a Shangri-La Garden with a full bar awaits. The resort has also implemented the Tabacon Green program which deals with general waste management and water conservation (there is even a plant-a-tree program that guests can be a part of).
Sources:
Pure Wow – Luxury Eco Resorts  In The World
7 Eco-Friendly Resorts That Prove Luxury Can Also Be Sustainable
10 Best Luxury Eco-Resorts Around the World
Afar – 8 Luxurious Eco-resorts Made For Unplugging